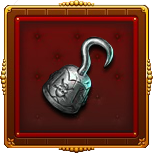 Word has it that the Captain cut off his own hand, replacing it with a hook which in fact was the key to the mysterious chest on board the Blood Pearl.
+10% damage dealt by units to defensive buildings
You need: Ship level: 21
Captain's Hook is the fifth artifact that can be found in Pirates event. Released in July 2015.
Ad blocker interference detected!
Wikia is a free-to-use site that makes money from advertising. We have a modified experience for viewers using ad blockers

Wikia is not accessible if you've made further modifications. Remove the custom ad blocker rule(s) and the page will load as expected.