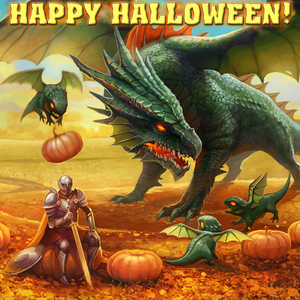 The Carnival of Fear event was released on 10
th 
of October and ends 11
th
of November. During this event, players can gain Skulls in battle to level up their Crypt, giving the player a chance of winning daily troops, spells, artifacts and a new decoration; Silent guard. Later in the event players are put into brackets to fight against eachother in order to win more prizes.
Crypt
Every 24 hours you can collect gifts from the Crypt, you can collect more gifts in exchange for gems.
To upgrade the Crypt you must collect Skulls in the arena or as a random gift in the Crypt. Upgrading the Crypt will increase your chances of receiving better loot.
You have a chance to upgrade the Crypt for 5 levels straightaway. Use the Potion of Fear to enlarge this chance. You can receive these potions from friends of gain 'em in the Wraith Portal. 
Artifacts
Decorations
Achievement
How to earn
Reward
Silent guard

Claim through the Crypt

+15% storage health within a range of 5 squares

Crypt

Claim the prize for placing 1-100 in the Tournament of The Carnival of Fear

-15% damage inflicted by warriors on storage

Witch's cauldron

Claim the prize for placing 1-25 in the Tournament of The Carnival of Fear

+15% gold production

Carnival of Fear

Claim the prize for placing 1-5 in the Tournament of The Carnival of Fear

+15% attack of defensive buildings
Troops
| BLACK WIDOW | |
| --- | --- |
| | |
| Type | Ground Unit |
| Priority Target | Nearest |
| Attack Type | Target |
| Range | 1 |
| Speed | 2 |
| Size | 3 |
| WITCH | |
| --- | --- |
| | |
| Type | Ground Unit |
| Priority Target | Nearest |
| Attack Type | Target |
| Range | 3 |
| Speed | 1.5 |
| Size | 4 |
| SCARECROW | |
| --- | --- |
| | |
| Type | Ground Unit |
| Priority Target | Nearest |
| Attack Type | Target |
| Range | 4 |
| Speed | 1.5 |
| Size | 7 |
| VAMPIRE | |
| --- | --- |
| | |
| Type | Ground Unit |
| Priority Target | Nearest |
| Attack Type | Target |
| Range | 2 |
| Speed | 3 |
| Size | 10 |
Spells
| Rise of the Dead | |
| --- | --- |
| | The dead emerge from their grave, harming anything and anyone within the grasp of their bony hands. |
| Damage | 400 |