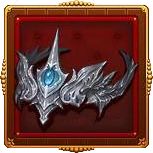 Crystal Crown, 
This crown of Myrr the Ice Queen, a gift from Dagor, has become the source of both her might and the curse that has brought her kingdom to ruin.
+10% to resources gained in Arena battles
You need: Holiday Tree level: 16
Crystal Crown is the Forth artifact that can be found in the Special Christmas event 2014. Released on 16th December 2014
Ad blocker interference detected!
Wikia is a free-to-use site that makes money from advertising. We have a modified experience for viewers using ad blockers

Wikia is not accessible if you've made further modifications. Remove the custom ad blocker rule(s) and the page will load as expected.