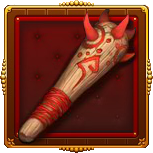 Its would be very wrong to assume that a Cyclops, with his one eye, is twice as easy to defeat. His club has crushed the skulls of many who neglected to prepare for battle as they should.
+17% damage dealt by warriors of the Sand
Your Brotherhood must come 1st or 2nd-5th place in the tournament
Cyclops' Clubis the one of many artifacts that can be won in Bastion of Horror tournament. Released in June 2015.
Ad blocker interference detected!
Wikia is a free-to-use site that makes money from advertising. We have a modified experience for viewers using ad blockers

Wikia is not accessible if you've made further modifications. Remove the custom ad blocker rule(s) and the page will load as expected.