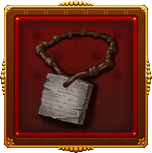 An ancient piece of troll culture! This is huge stone amulet, mottled with spells in the trollish language, which makes it a unique item. The enchantments bring its owner plenty, contentment, and peace.
+5% to bread gained in Arena battles
Trollish Pendant is the nineteenth artifact to be release on 23th October 2014 
Ad blocker interference detected!
Wikia is a free-to-use site that makes money from advertising. We have a modified experience for viewers using ad blockers

Wikia is not accessible if you've made further modifications. Remove the custom ad blocker rule(s) and the page will load as expected.